Inspired by the metallic looks I saw in so many shop windows in
Paris this spring
, this year's Oscars, and the release this month of a very glittery movie rendition of
The Great Gatsby
,
Jill of Everything Just So
and I thought that for May's "How I Wear My" post it was a great time to unleash our inner magpies!
A few shop windows in the Saint-Germain-des-Prés neighborhood in Paris.
Too bad I was there on Sunday…the day all the shops are closed!
Jill is ready for spring in silver shoes by Bandolino with a silver belt by J. Crew. It's hard to tell from the photo, but the mint green top has tiny metallic threads woven throughout.
Tamera Beardsley brings glamour and glitter to a Southern California resort wearing a Rachel Zoe gold sequined top with a fringed H & M skirt and statement jewelry designed by her.
Pam of Over 50 Feeling 40 wore this beautiful gold pencil skirt from Talbots with a Michael Kors sweater to a recent Journalism Banquet.
Alicia of Spashionista Report carries a fantastic pewter skull envelope bag from Shi by Journeys, a Christmas present to her.  Love the all white outfit with the skull bag and floral scarf!
Heather of Stylemindchic wears metallic on her date night on the town with a little sparkle with a J.Crew necklace, sparkle ring from her Stylemindchic boutique, shoes from Zara and top from Target. She mixed it down with denim for a casual evening look.
Viveka Rydell, CEO of PDI Surgery Center, a non-profit in Sonoma County that in five years has helped over 8,500 kids get dental surgery to treat severe tooth decay, wears her metallic "power suit" from Macy's when traveling to Sacramento to meet with legislators and testify in hearings to advocate against the proposed 10% cuts to MediCal reimbursements.
Jeannie of Gracefully 50 wears metallic in the form of a gorgeous and luxe Tod bag in silver. The entire look is so chic.
Suzanne of Suzanne Carillo Style Files  looks ready for a night out on the town in gold heart shaped top and black pencil skirt. So glamourous!
Tori went to her senior prom last weekend and wore a BCBG high-low dress in a dusty pink with gold threads running through it. She brought out more of the metallic in her dress by wearing glittery gold nail polish and a gold ring she bought at COS in Paris.
Once a week, I stop by my local Goodwill to have a quick look around. Last week, I found this great copper colored leather bomber jacket, in great condition, for just $6.00.
I wore it with black skinny jeans, black tee shirt, pumps and a rhinestone belt, purchased several years ago in Jackson, Wyoming.
My favorite metallic piece in my closet is this gorgeous belt made by my friend, Debra. She designs one-of-a-kind, edgy custom leather fashion accessories that flatter the female form. The entire production is made in California with the best quality possible.
For product inquires, Debra can be reached at her Facebook page, De.V body. Or contact me and I'll happily put you in touch with her .
I'm wearing my De.V belt with the Yala Ali Maxi dress* and old denim jacket. This look just might be my summer go-to outfit this year.
As you can see, from nail polish to handbags, belts to tops,
the metallic trend can be worn in a variety of ways.
How are you wearing metallics this season?
Jill and I are now sharing the lovely participants of How I Wear My. Be sure to visit her blog to see many more great metallic looks.
For June, the month of roses, don't you just want to cover yourself with glorious flowers? If so, please join us for "How I Wear My: Florals." Send a picture to Jill or me by June 3.
And if you want, grab the How I Wear My badge for your own blog. The code is below my badge on the side bar.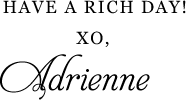 *Be sure to enter to win the $75.00 gift certificate to Yala and get your 20% off discount code to use from now until the 13th. Click HERE to find out how to enter and claim your code! 
Other posts you may enjoy...