Happy Monday!
And thank you for kind notes about the
blog turning 3
on Saturday. That's like 30 in blog years, right?
I left off my last Napa Valley Birthday Vacation post mid-birthday. We ended my husband's actual birthday with a wonderfully memorable dinner in the vineyards. I wrote all about it on my newest Skimbaco Lifestyle feature, which you can read here.
The next morning, our friends returned home while we lingered, dragging out our departure as long as possible until we caved in and extended the birthday vacation another day.
We unpacked our things and dressed to go out to lunch. I wore my new Calvin Klein roll sleeve blouse from Amazon.
I love the soft pink color of this top, the feel of the material (it's polyester, but it feels like silk and you can wash it in your machine without worry).  The details are lovely, too. I like the gold accents and the way the sides have button tabs just like the sleeves. I can unbutton them if I want to tuck in the blouse.
It's handy to bring along forgiving clothes when you're on a vacation that centers around eating. The last thing I wanted to be wearing that day was a form-fitting top!
CK top worn with Michael Kors sandals, Gap boyfriend jeans,
and Louis Vuitton Beverly GM bag.
Dressed and ready to go, we headed to Tra Vigne for lunch. We love their food and the atmosphere is pretty great, too.
Our favorite thing to get is the Mozzarella Al Minuto, freshly made mozzarella prepared at your table and served on grilled bread.
For Bill's, I ordered a post-birthday Cannoli for him. It was as tasty as it looks. Better, even.
Across the street is Long Meadow Ranch, a small charming farm with a restaurant called Farmstead. We sat down at a table lined with tires and had a drink while we people-watched and enjoyed the unseasonal gray, soggy weather.
We also walked around their vast gardens and admired all the vegetables, fruit and farm animals.
Tried to figure out why this chicken coop has wheels. Any guesses?
What really caught my attention were these vibrant sunflowers with loads of bees on them, pollenating like crazy. I was hard pressed to find a flower without a bee!
See? There I am trying really hard to find a bee-less flower.
After lunch and our wandering around Long Meadow, we went back to our lovely room at Harvest Inn and sat on the terrace, watching the weather turn from partly sunny to partly cloudy to cloudy to rainy. It was quite a show. Instead of going out for dinner, we ordered in Chinese food and dined on the terrace so we didn't miss anything.
The next morning we packed up our things again, intending to go home. We thought we would try a place we'd heard about called Redd Wood, an Italian eatery. Wonderful food!
Bruschetta with fava beans, ricotta, lemon, mint and olive oil and pizzas.
Once we were fully loaded with lots of carbs, we walked around the adjoining property, North Block an Italian-style boutique hotel complete with tiled stairs, large wooden doors, fountains, and lots of stone work. It's gorgeous. And because it was Monday and raining out, we got a great deal on a room.
We continued the birthday vacation for yet another night.
A glorious bed, lots of greenery, and a heated tiled floor in the bathroom…it was heavenly!
After unpacking, we grabbed a couple glasses of Sauvignon Blanc and asked one of the employees if he would mind lighting us a fire. He obliged and even though it was lightly misting out and we had no cushions on the couch, it was a wonderful, cozy experience.
I hope you've enjoyed the Napa Valley posts. Napa really does have some of the best food I have ever tasted. It was a fantastically fun trip that will go down as one of our best birthday vacations.
I'll be returning bright and early tomorrow morning for the next How I Wear My: Sunglasses. 
To be featured, please submit a photo of you in your sunnies to me at adrienne@therichlifeinwinecountry.com by the end of the day on Monday, July 1st.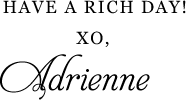 Other posts you may enjoy...