Our seventh One Trend, Two Generations focuses on a color. Not just any color but the Pantone 2013 color of the year, Emerald.
Tori is wearing a pair of beaded earrings in Emerald green that I bought at a Sonoma County apple festival about ten years ago. I don't remember too much about them except they were handmade in South America and that once I saw them, I had to have them.
A few years ago, I decided they were too bright for me and gave them to Tori. She loves them, which makes me happy, and she looks beautiful in them.
Tori wears her earrings with a black maxi dress with lace panels on the shoulders.
She keeps her look casual with a pony tail and flip flops.
Like Tori, I focused on Emerald with accessories. I wore a neutral look with a Gap denim moto jacket, navy blue shorts, a grey slub tee, and navy wedges then added rich, deep green with a suede clutch and a statement cuff.
The clutch is a recent thrift shop score…
and the cuff was sent to me by Shopbevel for my review. It's called a Piesa Emerald Traffic Cuff and it's truly a work of art.
It's was made by a designer in the Philippines out of thick wire wrapped carefully and tightly with silky Emerald green fabric.
Shopbevel is a site that allows designers from all over the world showcase their work, get feedback from their peers and have the chance to sell their pieces. And it gives consumers like you and me the chance to access unique designer jewelry at reasonable prices.
Every product sold on Shopbevel begins as a jewelry design submitted to the site by a designer. Once accepted through a voting process on its site, the piece is manufactured by Shopbevel's production facilities and brought to the consumer without the huge 100% to 300% mark-up we often find in retail.
Tori and I both adore Emerald and will be wearing more of it.
Are you wearing Emerald this year, too?
Jill
and I can hardly wait to see how you'll be wearing your neon.
Be sure to send photos to our new email,
HowIWearMy@yahoo.com on or before September 3rd to be included!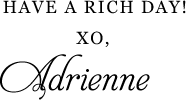 Disclaimer: This is a sponsored post. I received the featured cuff bracelet by Shopbevel. As always, all opinions expressed on my blog are my own.  
Other posts you may enjoy...