I am waking up this morning a 46-year-old. To celebrate, my husband and I are headed to San Francisco later today. I am more than a little excited!
Here's my plan for having the ideal (for me) birthday:
~ I'm going to eat sourdough bread and clam chowder and all the Chinese, Indian, Italian and Middle Eastern food I want.
~ I'm going to laugh a lot and reminiscence about old times with dear friends.
~ I'm going to stay up late and wake up when I feel like it.
~ I am not going to watch TV or read a newspaper.
~ I'm going to drink a martini at sunset at the Top of the Mark.
~ I 'm going to shop for wine colored lipstick and perfume in Union Square.
~ And I am going to be carefree for a couple of days. No to-do lists, no worrying and I am going to live in the moment.
Doesn't that sound like a good way to spend a birthday?
I'll be back soon with lots of tales from our trip.
In the meantime, find me on 
Instagram
where I'll be posting lots of photos of the beautiful city by the bay.
Happy Friday, friends!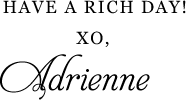 Other posts you may enjoy...