Thank you for the wonderful birthday wishes on my last post. You all are so kind!
My birthday was spectacular! I did everything on my list except shop for makeup, which frankly I can do any old day, right?
I have close to 1000 photos from our trip. It was too hard to narrow them down to just a handful so I decided I would only use
my Instagram photos
for this post.
We left for San Francisco the morning of my birthday and met a college friend of mine and her husband for lunch at Le Central. It's a French bistro that has been around for many decades and is the
favorite lunch spot of former mayor of San Francisco, Willie Brown
. In fact, Willie was sitting at his favorite table near the window while we were there!
I had French Onion Soup, the best I have had outside of Paris, and a plate of chilled asparagus with hollandaise sauce. Le Central has both wonderful food and a wonderful atmosphere.
After we said our goodbyes to our friends we checked in to our hotel, The Fairmont located on Nob Hill.
When we opened the door to our room, I just about fell over. The views were incredible. With four large windows, we could see from the Bay Bridge to the Golden Gate and everything in between.
I captured this behemoth cruise ship heading out to sea while passing Alcatraz Island.
I had prearranged a tour of the hotel with the Public Relations manager a few days before our arrival. As soon as we dropped off our bags, we met her in the lobby for an hour-long walk about that included the 6000 square-foot Penthouse Suite. Here is the view from the suite's patio. Breathtaking!
Toward the end of the tour, we passed by the hotel's Epicurean Garden where they grow herbs and keep 100,000 bees in bee hives. The bees love to feast on the lavender, rosemary, basil and other herbs that the culinary staff uses to flavor meals served at The Fairmont.
After our tour, we returned to our luxurious and oh-so-fabulous room for a little birthday bubbly.
Bill couldn't resist the views so he pulled up a chair and enjoyed his champagne in front of the bedroom window.
Many people don't know this but The Fairmont San Francisco is pet friendly! We brought Daisy and Coco and later in the visit, our friends arrived with their Yorkie, Holly, on the right.
What's a trip to San Francisco without shopping? We stayed about four blocks from Union Square where we passed the Goyard shop. I couldn't resist photographing this tower of trunks. Can you imagine having this as your set of luggage?
What I loved about our time in the city is that we experienced all sorts of weather. It was verging on hot one day, then shivering cold the next. Fog always cools things down. We were mesmerized by the fingers of the white fluffy stuff creeping into the bay from beyond the Golden Gate Bridge.
As I mentioned in my last post, visiting the
Top of the Mark
to have a martini on my birthday was a top priority.
Not only was the martini wonderful but the views were, too!
Once night fell, we returned to our room to change for a late night dinner.  This is the view that greeted us upon our return.
Another thing you must do during a visit to San Francisco is eat sourdough bread.  I took this shot at The Franciscan at Fisherman's Wharf.
First on my birthday list was to eat sourdough bread and clam chowder. I love it when you can order them as one. I like mine with a dash or two of Tabasco and freshly cracked pepper. How do you take yours?
Four days and five pounds later, we headed back home to the wine country. What an outstanding birthday! I saw lots of dear friends, ate wonderful food, had tons of laughs, stayed up really late and saw many, many beautiful things. I could not ask for a better way to celebrate turning a year older.
I will miss you, San Francisco! Thanks for being such a beautiful, interesting and delicious city.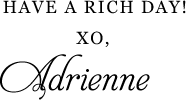 Other posts you may enjoy...