If you celebrated, how was your Thanksgiving?
Ours was pleasant but different this year. We dined out for Thanksgiving dinner for the first time ever. The restaurant we went to served a decent traditional meal with turkey, gravy, cranberry sauce, ham and so on.
The enormous room was festively decorated with lots of streamers and gigantic Thanksgiving-themed mylar balloons. With the size of the room, the buffet style, and the decorations, I felt like I was at a convention banquet not Thanksgiving. Don't get me wrong, I'm thrilled I didn't have to cook or clean yesterday but it simply wasn't the same as being at home, eating familiar tasting food we made ourselves. Now we know it's worth the effort to celebrate at home. Lesson learned.
I wore this get-up to dinner: a navy blue maxi skirt I bought last summer at 
Banana Republic
 with a thrifted chain belt and a 
nude colored Equipment blouse
.  I wore nude patent leather ballet flats I bought in Italy last year and carried a very old Louis Vuitton Alma bag.
I like the color combination of nude, navy and gold. They compliment each other well.
When I arrived at the restaurant, I realized I was a bit overdressed. I could have just worn jeans but I enjoy dressing up for holidays. Do you?
I even gave my hair a good blow out. I wanted to play with my new hair dryer that I recently received from Misikko.
They asked me if I would review their HANAair Professional hair dryer and since I was in the market for a new hair dryer, I jumped at the chance. My hairdryer was heavy, cumbersome and loud.
My HANAair hair dryer came with lots of extra beauty goodies, too, like an eyelash curler, teddy bear,
sachet and nail files.  And not just because I am a blogger.
Everyone gets them!
The moment I took the lightweight dryer out of the box I knew it was going to be a dream to use and I was right.
The HANAair features an extra long cord, a cool button, and hot and warm, and high and low settings. It's quiet and the Italian design makes it easy to manage. The best part is the tourmaline lined ceramic heater that dries hair more than twice as fast as a typical dryer. No wonder they call it  their "Best Professional Hair Dryer!"
I love having a professional hair dryer and now I can get a just-stepped-out-of-the-salon look right in my own home.
Disclosure: I received a HANAair Professional hair dryer to review and keep from Misikko. All opinions about the HANAair Professional hair dryer and Misikko are my own.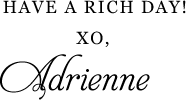 Other posts you may enjoy...