I am still letting everything settle since my
Bloggers in the City
getaway with
Heather of StyleMindChic
and
Kim of Northern California Style
.
We did a lot in 27 hours besides shop. We also ate some wonderful food like this classic Neiman Marcus chicken salad…
and did some bonding over a bottle of Vueve Clicquot champagne…
in my chic and colorful room.
After spending a good two hours relaxing and getting more acquainted in our beautiful surroundings, we headed off to a late dinner at Farralon, a fantastic place to dine. The decor alone is worth a visit.
The jellyfish lights are stunning!
The service and the food are both incredible, too. It was a truly wonderful dining experience.
Our amuse-bouche…mushroom puree with truffles and crème fraîche.
Since we ate later in the evening, we didn't get back to the hotel until close to 11:00. These days, that's late for me.  We tried to go out for a nightcap, but the charming restaurant/bar next door had stopped serving for the evening. Probably a good thing!
We relaxed a little in the gorgeous and cozy lobby instead and took some photos.
Eventually, we each retired to our rooms for a restful and peaceful night's sleep.
The next morning, we all woke up earlier than expected – excited, perhaps? I ordered a pot of coffee for my room and watched the dawn turn into daylight from my window.
The three of us met for breakfast at the Grand Cafe, adjacent to the hotel, later that morning where we were treated like royalty! The staff from the kitchen, including the head chef and sous chef, came out to say hello and introduce themselves to us, as did the managers of the hotel and the restaurant.
The food was magnificent as was the atmosphere!
After breakfast, we returned to Union Square for more shopping and, as I mentioned in my last post, to see all the action surrounding the Bat Kid event.
Another purchase I made, in addition to the floral and leather DKNYC top, is this Calvin Klein layered shell. It's a versatile piece that will camouflage my midsection when I feel like I need it, like after day or two of champagne, bread baskets and popovers with strawberry butter.
I wore it Sunday out to lunch and to a winery with my husband. I have been looking for a simple top to go with this crepe wool Dior (yes, vintage DIOR!) cropped, double-breasted jacket that I bought at Goodwill for $3.99 and this is just what I was looking for.
I think this shell is going to solve a lot of wardrobe dilemmas for me. I bought it in black, too. Do you  wear silky shells?
We were finally all shopped out and decided to get some lunch near our hotel before sadly saying goodbye and heading our separate ways.
Although it seems like we talked a lot, there are still so many things I wanted to ask them and to discuss about blogging. We just didn't get to everything.
Kim and Heather in the beautiful lobby at Hotel Monaco
I don't know about you, but the majority of my non-blogging friends and family don't want to listen to me blather on about analytics, ideas on making money blogging, which social media platforms are best to use, widgets, html codes and what other blogs are doing. And I don't blame them!
So it's fun and refreshing to be around friends who share an interest in blogging. No glazed over expressions on any of our faces when blogging subjects came up. I think we all learned a little something from each other about blogging and got a chance to speak freely without worrying about boring or annoying anyone.
We are hoping to get together again early next year for more blog discussions, shopping, imbibing, eating and laughs!
If you write a blog, do you avoid discussing it with your non-blogging friends and family?
Do you have someone you talk about blogging with?
Thanks for reading about our fun getaway!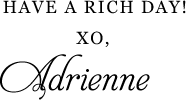 Disclosure: Kimpton sponsored our stay including our three individual rooms, breakfast and incidentals. All opinions of Kimpton's Hotel Monaco and Grand Cafe are my own, as always. 
Other posts you may enjoy...