I thought I'd cover the shopping segment and show you some of the great things I found while hitting the department stores in Union Square with Heather and Kim.
The view from The Rotunda at Neiman Marcus
Before we shopped, we played "ladies who lunch" at Neiman Marcus's Rotunda.
We enjoyed a lovely meal and got reacquainted – or in Heather and Kim's case, acquainted – over a bottle of pink champagne. Once lunch concluded, we headed to the festive first floor to check out the makeup and fragrances.
I have heard from a few friends that Giorgio Armani makes the best foundations. And since I was in dire need of a new one and Kim wanted a new tube of
Eyes to Kill mascara
, that was the first place we stopped.
There we met Fernando, makeup artist and product specialist for Giorgio Armani. He sat me down and went about looking for the ideal foundation for me called
Luminous Silk
. Once my brown spots were covered and my skin looked even, he asked me what else I was looking for. Well, I needed a new brow pencil, an under-eye concealer and I wanted to try the vampy dark lip look.
Fernando delivered and even gave my eyes a dramatic (for me) evening look that I wore the rest of the day.
 I love my Giorgio Armani products. They are so luxurious. Even the packaging is high-quality.
While I was being helped by Fernando, Kim and Heather were getting their makeup done by Tiffany, whom Kim and
I met last summer.
Don't they look great in their coral lip color?
The next morning, I woke up and decided to return the vampy lipstick. Thankfully I hadn't opened the package yet. I knew I wouldn't wear it enough to justify the cost. I could get a wine colored lipstick at the drugstore for less than $10. Why not splurge on an everyday lip shade for fall?
Back to Neiman's the next day we went. This time, Tiffany chose a suitable color for me. This lip color from the
Rouge Ecstasy
line,  #201. It's a pinkish brown shade that is perfect for everyday.
After leaving Neiman's with lots of samples from Tiffany, we decided to shop for clothes.
Although Neiman Marcus was having a great sale, we wanted to check out
Macy's
which suits my budget a little better.
We ended up on the Calvin Klein, Michael Kors, DKNY, Eileen Fisher floor. I must've tried on 25 things. I found a few things I liked, and then Kim brought me this number. It's a
 DKNYC Floral and leather blouse
that I instantly fell in love with.
I wore it Saturday night to dinner with my husband at our newly re-opened local restaurant, the Kenwood Restaurant.
I also wore my new lipstick for the first time along with the other makeup goodies I bought. I can't help but feeling more put together with makeup chosen by pros to suit my coloring.
More about the 'Bloggers in the City' getaway later in the week! And a full post about
Hotel Monaco
in San Francisco, who so generously sponsored the three of us, is forthcoming on my feature at
Skimbaco Lifestyle
soon.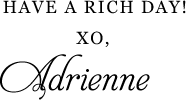 Other posts you may enjoy...