Thanksgiving is upon us. It's a time to be grateful – outwardly and actively – for all the good stuff in our lives.I believe that being thankful and appreciative daily is the cornerstone of a happy and contented life. I try to be grateful for my health, my family and friends, my loving husband, my dogs and my home on a regular basis. But there is something else I am abundantly thankful for and that is my blog and its readers.
This Thanksgiving I want to give thanks for what and who blogging has brought into my life.
I am thankful for:
1. The meaningful friendships that were created through blogging that have brought me much happiness.
2. Having a space that's all mine.
3. Using my creative skills to communicate thoughts and ideas.
4. Being able to interact with smart, funny, kind and interesting people all over the globe.
5. The many opportunities that blogging offers.
6. The unexpected surprises that come with blogging that always keep things interesting.
7. Learning what I have about technology, writing, photography, fashion, travel, beauty, aging and about myself from blogging and other blogs.
8. A supportive family, especially my husband and stepdaughter who both willingly take photos for me and politely listen – or do a good job pretending to listen – to me yammer on about blogging.
9. Finding my passion and living it!
10. You! For without your readership, your comments, your emails, or your just stopping quietly by for a quick glance, I would have given up blogging long ago.
Happy Thanksgiving to those of you celebrating today!
What are your Thanksgiving Day plans? Traveling somewhere, staying home or dining out?
My husband arrived home from the wild land fire Tuesday night, in plenty of time for the holiday.
Our Thanksgiving dinner will be at a restaurant this year as it's just three of us – my husband, me and his father. It's a little sad that we don't have a big crowd to host at home this year, but I have to confess that I am doing a little Snoopy-style happy dance in my head each time I remember I won't have to do any dishes or cook anything.
One last thing….
In case you didn't already hear on our Facebook page, How I Wear My: Red has been postponed a few days. Jill and I both had some changes to our schedules that will keep us away from our laptops for a couple of days next week.
This might be good news for those of you who haven't gotten around to taking photos yet – like me!
The new date is Monday, December 9th. Please send photos in by the afternoon of December 8th to be featured. Be sure to include a brief description of your look along with a link to your blog, if you have one, to howiwearmy@yahoo.com
Jill and I can't wait to see how you wear your RED!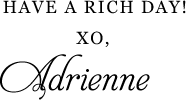 Other posts you may enjoy...